Pubs in Keswick
Keswick is home to a number of breweries and distilleries, making it the perfect place to enjoy a pint or a dram.
Keswick's breweries
Keswick's breweries produce a wide range of beers, from traditional ales to experimental flavours. And if you're looking for something stronger, you can sample some of the local whisky and gin.
THE CRAFTY BAA KESWICK
A quirky pub; Small, compact but brimming with character, fantastic staff and a superb range of drinks. The walls and ceilings are adorned with an eclectic mix of items but it all works perfectly. If you are a fan of first-class pubs/bars with a difference, get yourself here.
THE FOX TAP
Enjoy a beer at the Keswick Brewing Company's Fox Tap bar. With up to 6 cask, and 4 keg beers available, along with bottled and canned beers. They also have spirits, wines, ciders and soft drinks. So there is something for everyone. The bar is dog friendly.
THE POCKET CAFE BAR
The Pocket is a small, independent venue located in the heart of Keswick. They serve local real ales, Cumbrian brewed lager, draft Belgian & German beers, and homemade sourdough pizzas.
DERWENT WALKER CAFÉ BAR
The Derwent Walker Café Bar cocktail menu not only contains classics, that we cocktail drinkers love, but also their very own Derwent walker specialities.
KESWICK BREWING CO
A small craft brewery with quality and environmental issues at its heart. With the Fox Tap bar, Brewery Tours, and Beer Shop you can enjoy a beer where it is brewed.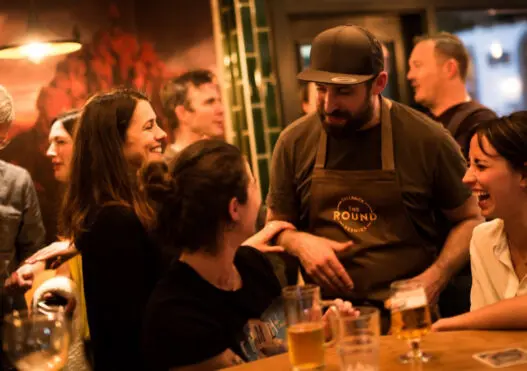 THE ROUND
Great burgers, beers and cocktails. A fun and friendly atmosphere await in the heart of Keswick. Situated in Keswick's iconic Market Square, The Round sits on the footsteps of the Moot Hall.
THE SQUARE ORANGE CAFÉ
With a full bar, specialty coffee menu freshly made stone-baked pizzas, and live music evenings; the warm and welcoming atmosphere is one you will find hard to leave!
Keswick Cottages
Keswick is a small town in England that is known for its picturesque scenery and its many outdoor activities. The town is situated in the Lake District, which is a popular destination for hiking, climbing, and other outdoor pursuits.
Visitor Info | Keswick Cottages | Dog-Friendly Keswick Cottages